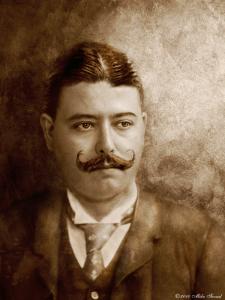 Why isn't my work selling?
By Mike Savad
9-1-13

Sometimes no matter how good you think you are, even if you are great at making art, you find you can never attract people over to your work. This article isn't about advertising, it's about how you present your work viewed as a very small size.

Very small size? You might be thinking that it makes little difference how small something is, because you want people to buy the large version. But in order for the larger version to be seen by others, you'll need an attractive thumbnail.

It's said, that a customer has about 3 seconds of attention to process something before moving on. So in order to get them to see more of your work, you'll want things that will catch their eye. To do that you need to set something up that has good contrasts, color and a shape people can quickly understand in just a quick glance. When setting up for an art show, you want the brightest, most colorful works, that has the simplest of themes to be in the very front of the booth. These images pull the viewer in so they can see the rest. But you should have at least one or two eye catchers, the rest can be whatever it is you normally sell. This is how a store front window works by the way. Bright colorful things to attract the eyes to your store.

However in the online world, people have an even shorter attention span and it's made even harder because there is more competition.

So what does this mean to you?

In order to present yourself well you need a great picture, but it has to look good small as well. Complicated images (like a general store for example), will merge into a bunch of meaningless shapes, abstracts will look like a stain on paper when viewed as a tiny image.

If the image doesn't look interesting people won't click on it. This means you need simple shapes, bright colors, interesting contrasts. But it shouldn't be too colorful either because you only have seconds of attention and you want to keep it simple. A bright orange sunset, with a life guard tower contrasting against the sky will bring people in. A field of wild flowers, probably won't because there won't be enough contrast or color for the small image to look interesting.

You can view your small version after you save it and view it in windows or use the navigator in Photoshop. You can also see it here online in your store in the selling options. How easy is your image to recognize when it's only a 1/2" across? Can you add something to it, to make it more interesting? Like change the color of a flower just so it stands out better?

So lets try something.




This is the standard size that Fine Art shows it's pictures in. If thumbnails were this large all over the net most people would be good. However it might be really tiny due to the device they are using. Let's simulate it:




I shrunk this about 4 times smaller. This size is about the size most phones will look like (if not smaller), before they zoom up on it. This image shows up well because of the contrasting shapes, you can kind of see what it is before you click on it. A buyer might be interested in it if it also has a nice title to go with it, in this case it's called: Machine shop circa 1900's. People are more apt to click on it if they have a reason to do so.

This is also an important note – another reason you want great interesting or descriptive titles. If the thumb nail is weak (they aren't always going to stand out), then you'll want your interesting title to be the seller for that work.



Here's another one, it has interesting or unusual shapes, people may want to click on it.



My octopus image was made too dark, and I used purple and blue. When the image becomes smaller, you can see really very little of the image. On uncalibrated screens, that could look solid blue to some people. It's better large, but it's still dark. It doesn't thumbnail well.



Here's another one, while up close there is a lot of detail, as a stamp sized image, most of that is lost and it almost looks like a solid color. On a normal day most people will skip past this image.


This is a block of my images some do well, and some don't do well.




Selling aside, just on the instinct to click on an image, which of these would you most likely to click on and when you made you choices, ask yourself why you clicked on those and not the other one?

Selling art is about visual appeal. However paying attention to small things like this can often help you in the long run. I've often gone back and increased the brightness in a piece because I noticed my thumbnail was not that punchy.


---Mike Savad